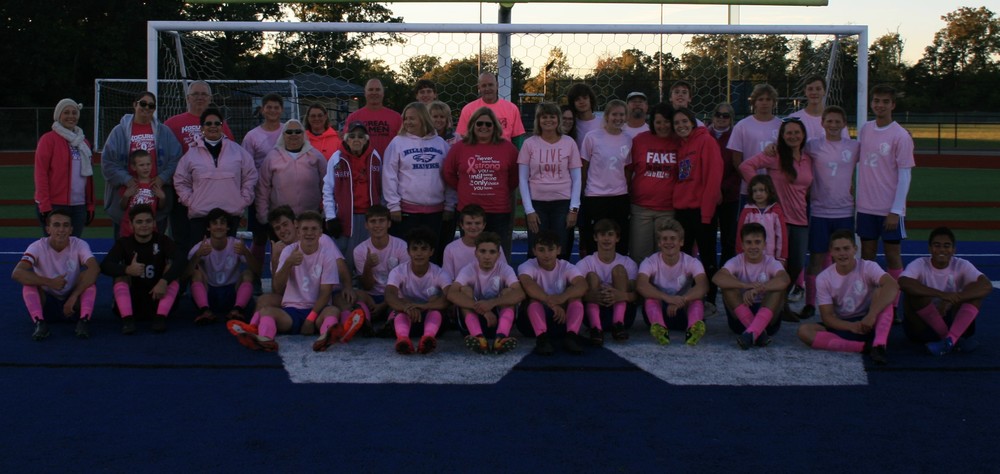 Breast Cancer Awareness
Gayle Null
Wednesday, October 17, 2018
On 10/16/18 the Hawks Varsity Boys Soccer Team along with community members showed up wearing their PINK in honor of the victims, encouragement to those that are battling, and celebrating all who have overcome and won the battle against breast cancer.
The following list of names are those in our community that have been victimized, are currently battling, and those that are survivors:
Diane Bogowith Beverly Bryant Debbie Dierkes Kelly Douglas Donna Franus Karen Freiner Mildred Heidecker Cheryl Kelly Jackie Kocurek Dodie Kuhlenberg Debbie Laidlaw Sherry LeClere Peggy Matthews Karen Matthews Angel Mayberry Lee Maynard Tia Overbee Sherry Ragins June Readnour Susie Reichert Kelly Rude Christy Schacht Beth Signorelli Nicole Stoutenborough Sharon Strang Josephine Strange Renee Teale Catherine Villmer Sherry Walker Becky Windsor Diane Woods
Sadly, we all know someone who has faced this terrible disease, early detection along with awareness is the best weapon we have in defeating it. Please get screened and encourage your loved ones to do the same.
by: Chris Schacht - Hillsboro Hawks Soccer Coach