EDIT MAIN
Hillsboro, MO. - County Executive Dennis Gannon and Jefferson County Health Department Director, Kelley Vollmar, in consultation with the Jefferson County Emergency Management Director, Warren Robinson have announced that Jefferson County is adopting new restrictions to reduce the spread of COVID-19 in the region. The new restrictions will take effect at 12:01 a.m on March 24, 2020 and will remain in effect until 11:59 p.m. on April 23, 2020. Key components of the Stay at Home Order include the following:
Residents will still be able to perform tasks essential to the health and safety of individuals, their family, household members and pets, such as obtaining medical supplies or medications, visiting a health care professional, or obtain supplies necessary to work from home.
Residents will be able to obtain or deliver necessary services or supplies for themselves, household members or others necessary to maintain safety and sanitation.
Outdoor walking or exercise provided residents maintain social distancing of at least six feet from any other person.
Going to work wherein allowed.
The Stay at Home Order also has guidelines for business, government and essential activity. A copy of the Stay at Home Order and Frequently Asked Questions is attached to this press release. It is our intention that the continuity of business activities remain in place and uninterrupted as much as possible. However, in order to combat the spread of this pandemic, people must refrain from all non-essential travel and stay at home as much as possible. This Stay at Home Order is issued for and applies to all of Jefferson County, unincorporated and incorporated.
---

Copy of Jefferson County Health Department Press Release- March 23, 2020
---
---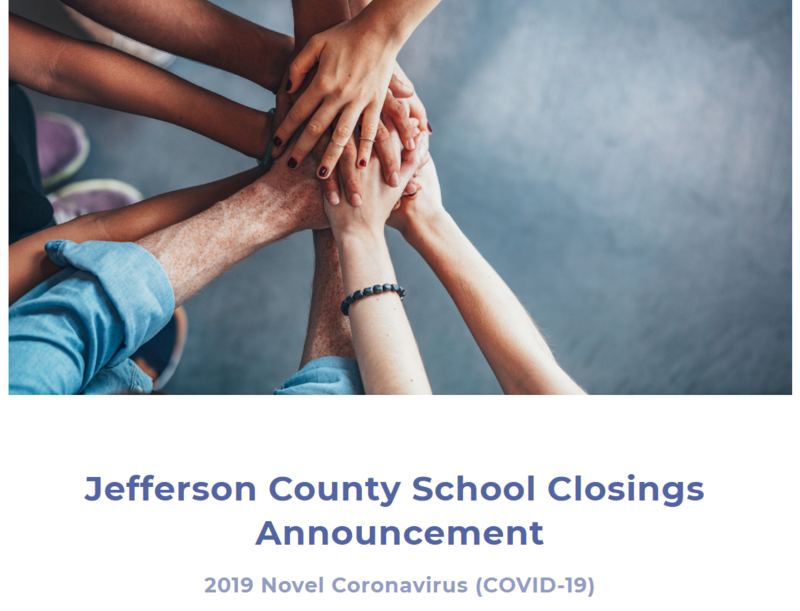 March 15, 2020 Hillsboro, MO — School districts in Jefferson County, along with representatives from the Jefferson County Health Department, Jefferson County Administration Office, and Mercy Hospitals met today and determined that out of an abundance of caution, all Jefferson County public schools will close beginning at 5 p.m. on Tuesday, March 17 through Friday, April 3. The anticipated reopening date for schools is April 6, 2020; however, the date is subject to change pending further information.
All school activities, including athletic and extracurricular practices and competitions, will be canceled during the time schools are closed. This also includes the use of any facilities by any outside groups or teams.
Keeping our students, educators, families, and communities safe is our top priority. We are using every tool we have to protect our community and will continue to do so in the coming days and weeks. The decision to close schools was not taken lightly and made with the health and well being of everyone in mind. We understand everyone will be impacted and lives will be disrupted by our decision, but we believe we need to take such actions to protect our families and communities from this outbreak. Measures like closing schools and restricting mass gatherings are intended to slow the spread of the virus and assist our healthcare system, so those affected can receive the care needed.
Individual school districts will be in contact with their communities to provide additional information regarding ongoing learning plans, as well as social services for those in need. All districts and schools are focused on this planning and will be in touch in the coming days through their designated communication channels.
We will continue to remain in contact with public health officials, elected leaders, and neighboring school districts and keep families and media updated with new information as it becomes available. We thank our community for their support and partnership in this effort.