EDIT MAIN
GOVERNOR PARSON ORDERS SCHOOLS REMAIN CLOSED FOR REMAINDER OF ACADEMIC YEAR, EMPHASIZES STATE'S AGGRESSIVE ACTIONS TO COMBAT COVID-19 ARE WORKING
In addition to this announcement, Governor Parson emphasized the state's "Stay Home Missouri" Order and social distancing measures are working to help combat COVID-19.
According to data from the Missouri Department of Transportation (MoDOT), traffic volumes across the state are down approximately 40 percent, showing that more Missourians are staying home.
"I want Missourians to know that our aggressive efforts to combat COVID-19 are working. Based on traffic data across the state, we know people are following the Stay Home Missouri Order, and we are very appreciative of that," Governor Parson said. "Missouri is in a good place right now, but we must keep up these efforts."
Although statewide traffic has decreased significantly as a result of COVID-19, Governor Parson reminded Missourians to practice safe driving and obey the rules of the road. MoDOT officials and their law enforcement partners, including the Missouri State Highway Patrol, are seeing an increase in speeding due to the lower traffic volumes.
In a recent test of a section of rural I-70, there were more than twice as many incidences of speeds over 80 mph this year as compared to last year. Last week alone, MODOT vehicles were struck three times by distracted drivers.
"Reckless driving leads to accidents and adds to the current stress of our first responders and health care professionals. That's why now more than ever, it is critical to drive safely and obey the rules of the road," Governor Parson said.
While less Missourians are traveling the roadways, trucks continue to carry much needed supplies, and MoDOT is keeping vital transportation projects and essential state highway maintenance operations moving.
Governor Parson also highlighted the efforts of businesses across the state to abide by the guidelines of his 'Stay Home Missouri' Order, including grocery stores. Schnuck Markets, Inc. President and Chief Operating Officer Dave Peacock joined today's briefing to give an update on actions taken in Schnucks stores across Missouri.
Schnucks has taken several measures to meet this crisis head on in its stores to keep both customers and employees safe:
Mandating that employees wear masks and providing FDA-approved, sterile masks to any employee who needs one
Counting each customer who enters and exits Schnucks stores and implementing capacity limitations in each location to maintain as much social distancing as possible
Reminding customers through signage, floor decals, and PA announcements every 15 minutes to maintain social distance as well as dedicated personnel to remind customers to maintain 6 feet of distance throughout the store
Strongly encouraging customers to assign one shopper per household and for that shopper to wear a mask - reserving masks like N95s and surgical masks for frontline personnel
Collaborating with local media to spread this message beyond Schnucks stores through PSAs and live mentions get the word out beyond Schnucks stores
Additionally, Schnucks has also announced donations totaling over $600,000 to organizations seeking to provide humanitarian efforts in this time of crisis and is currently offering customers the opportunity to round up at the register in support of the United Way's COVID-19 needs. This is on top of Schucks' regular food donations totaling over $13 million per year to area food banks and other charitable efforts within our communities.
Governor Parson's "Stay Home Missouri" Order will remain in effect through Friday, April 24. For clarification on the guidelines set forth in the Order, click here.
To view Governor Parson's remarks from today's briefing, please click here
Hillsboro, MO. - County Executive Dennis Gannon and Jefferson County Health Department Director, Kelley Vollmar, in consultation with the Jefferson County Emergency Management Director, Warren Robinson have announced that Jefferson County is adopting new restrictions to reduce the spread of COVID-19 in the region. The new restrictions will take effect at 12:01 a.m on March 24, 2020 and will remain in effect until 11:59 p.m. on April 23, 2020. Key components of the Stay at Home Order include the following:
Residents will still be able to perform tasks essential to the health and safety of individuals, their family, household members and pets, such as obtaining medical supplies or medications, visiting a health care professional, or obtain supplies necessary to work from home.
Residents will be able to obtain or deliver necessary services or supplies for themselves, household members or others necessary to maintain safety and sanitation.
Outdoor walking or exercise provided residents maintain social distancing of at least six feet from any other person.
Going to work wherein allowed.
The Stay at Home Order also has guidelines for business, government and essential activity. A copy of the Stay at Home Order and Frequently Asked Questions is attached to this press release. It is our intention that the continuity of business activities remain in place and uninterrupted as much as possible. However, in order to combat the spread of this pandemic, people must refrain from all non-essential travel and stay at home as much as possible. This Stay at Home Order is issued for and applies to all of Jefferson County, unincorporated and incorporated.
---

Copy of Jefferson County Health Department Press Release- March 23, 2020
---
---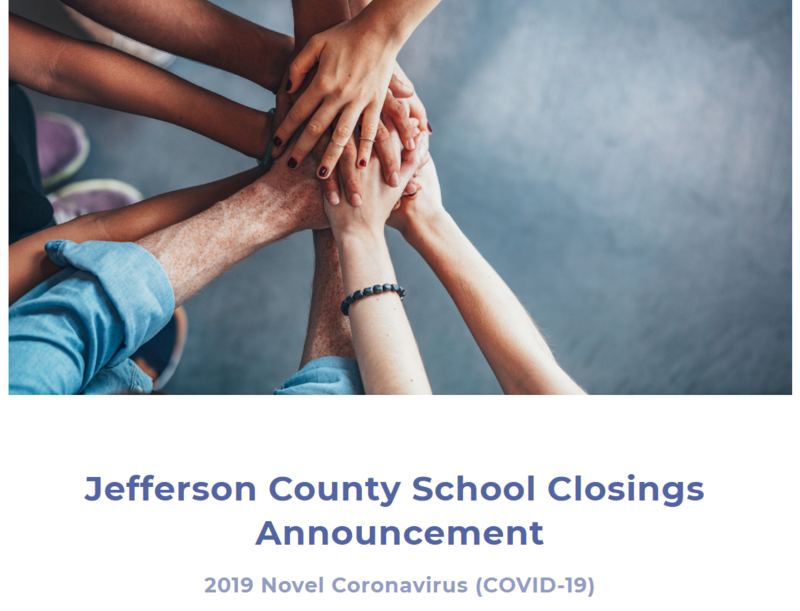 March 15, 2020 Hillsboro, MO — School districts in Jefferson County, along with representatives from the Jefferson County Health Department, Jefferson County Administration Office, and Mercy Hospitals met today and determined that out of an abundance of caution, all Jefferson County public schools will close beginning at 5 p.m. on Tuesday, March 17 through Friday, April 3. The anticipated reopening date for schools is April 6, 2020; however, the date is subject to change pending further information.
All school activities, including athletic and extracurricular practices and competitions, will be canceled during the time schools are closed. This also includes the use of any facilities by any outside groups or teams.
Keeping our students, educators, families, and communities safe is our top priority. We are using every tool we have to protect our community and will continue to do so in the coming days and weeks. The decision to close schools was not taken lightly and made with the health and well being of everyone in mind. We understand everyone will be impacted and lives will be disrupted by our decision, but we believe we need to take such actions to protect our families and communities from this outbreak. Measures like closing schools and restricting mass gatherings are intended to slow the spread of the virus and assist our healthcare system, so those affected can receive the care needed.
Individual school districts will be in contact with their communities to provide additional information regarding ongoing learning plans, as well as social services for those in need. All districts and schools are focused on this planning and will be in touch in the coming days through their designated communication channels.
We will continue to remain in contact with public health officials, elected leaders, and neighboring school districts and keep families and media updated with new information as it becomes available. We thank our community for their support and partnership in this effort.